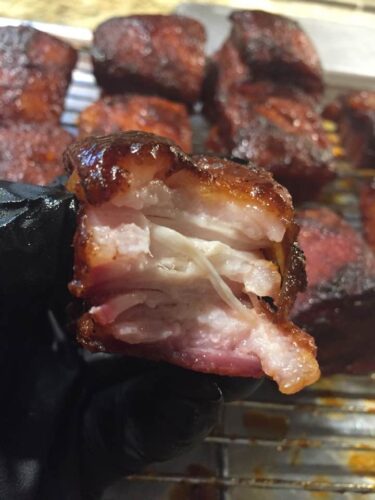 You will need a 5-8 LB Pork Belly (Costco is a great source)
If you have not had Pork Belly Burnt Ends, my friends, you are missing a BBQ DELICACY! This recipe will render the most succulent, melt in your mouth bite of pork you will ever have.
Heat pit to 250 degrees – Maintain temperature through out process.
Fat cap up through out process – cut pork belly into 1.5" cubes and slather with (French's) yellow mustard. Season with you're choice of creole seasoning. Apply brown sugar based rub (1 – 32oz.brown sugar, paprika, chili powder, garlic powder, mustard powder, creole seasoning & kosher salt).
Place cubes onto a wire rack and place directly on the pit. Smoke 2hrs. Remove from pit and place pork belly into a large foil pan. Sprinkle with more rub, add cubes of butter through out pan and drizzle with honey, wrap with foil and return to the pit for 1.5 hrs. At this time prepare your glaze.
1 bottle Texas Q Original or Sweet Heat, combine with 1/2 cup of apple jelly, warm until jelly has melted.
At 1.5 hours remove pan and place pork belly back onto wire rack and glaze with prepared sauce. Return to pit for 20-30 minutes until glaze has set and is sticky to the touch.
Rest pork belly for 15 min.
Enjoy Pork Nirvana! #PorkBellyBurntEnds